TARGETED INVESTMENTS
We acquire single-tenant operationally essential real estate across various asset types, industries, and geographies throughout the U.S. We seek long-term partnerships with our customers and we value relationships.
Acquisition Criteria
Direct SLB and
Existing Leases
Free Standing
Single Tenant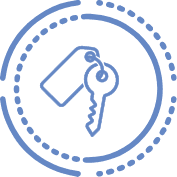 Net Lease
Structure
10+ Year
Lease Term
Sophisticated
Operator
Who We Are and What We Do
Recent Acquisition Activity
Spirit completed the acquisition of 56 properties during the second quarter of 2022 for $399.0 million, with a cash capitalization rate of 6.34%, an economic yield of 7.08% and a weighted average lease term of 14.4 years.
Of the deals we closed in the second quarter, 82% were with existing relationships. From an industry perspective, we invested in health and fitness, car washes, home décor, restaurant – casual dining, department stores, home furnishings, dollar stores, dealerships, restaurant – quick service, sporting goods, early education, discount retail, distribution, manufacturing, office and other with an asset type breakdown of 79.5% retail, 17.5% industrial and 3.0% office.